Imagine a swamp the approximate size of a football field.
(about 100 meters X 25 meters)
This is what is left of that Swamp
...can you guess why???
Every Day We Discard a Sea of Glass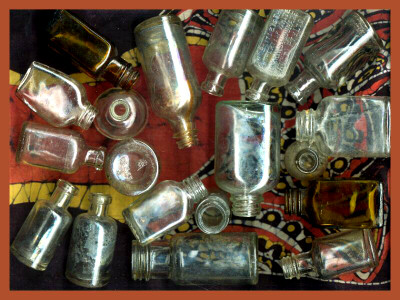 Glass should never have a single use life...
The Water Resources Department introduced the French Water Lily to the swamp that once covered this dry arid piece of prairie in order to see if it could provide the floral industy in our country with a copious and reliable supply of these lucrative plants. They found that the French Water Lily would double itself each day in the swamp that they had chosen. They introduced the Lily in early April and found that in one month- thirty days- the swamp was completely over-run by French Water Lilies. They drained the swamp in order to analyse the ground properties so that they could find larger swamps in the region as the season ran from April until late August or Early November and they were completely over-run by early May.
The French Water Lily Harvester is a complicated boat/harvester that requires the swamp to be 50% covered in order to sustain economic viability. The Department of Water Resources tried to guess at which of the thirty days would the swamp be half covered. This was a very hard thing for them to do... and so they asked me if I would put the question to all those who are reading this webpage: Click on the email address below and submit the day- from one to thirty when the swamp would have been 50% covered. You can see by the effects of the drainage how wrong the department was.